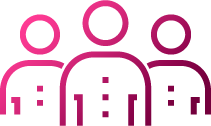 Featured Clients
More than 2000 clients trust ClearSale to outsource their online fraud operations
Do not give up on your good customers
Empower your business now
What some of our clients have to say

The impact was immediate

Kimberly Gort, E-commerce Manager, Schutz
"With triple-digit percentage growth, comes growing pains. When we received a modest five online orders a day, using the free tool from our e-commerce platform provider worked fine. As order volume and sales grew, the model no longer worked. Some shoppers were blocked from placing an order or their order was delayed. We were missing out on orders, devoting almost a full employee to manually check the orders and seek out consumers to verify information. In July, we decided to integrate ClearSale. The impact of adding ClearSale was almost immediate, we had a 5% increase in approval rate from when we relied on our free plugin. The commission is worth it, as more sales are approved."
It's simple math. More approvals + less fraud and chargebacks = higher revenue
With ClearSale's Total Guaranteed Protection, you can stop deliberating over fragmented anti-fraud packages. From integration to support, we work closely with you to ensure your security, confidence and freedom to sell.
Save time and stay sane
Protect your revenue now