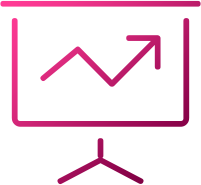 Main benefits
The main benefits of choosing ClearSale solution to protect your business from fraud and chargebacks.
Do not give up on your good customers
Increase your approval rates

YOU DO NOT HAVE TO WORRY ABOUT SALES PEAKS
ClearSale is responsible for making sure operations and processes keep pace with your sales. We have you covered, even in major sales events such as Black Friday. You do not even have to worry about calling ahead.

UNDERSTAND WHAT IS HAPPENING IN YOUR OPERATIONS
We offer a complete outsourced solution without being a black box. We provide online dashboards to support your operations. You can review your orders to access their details and how they relate to each order or ask for more details about any rejected order by demand.

DO NOT WORRY ABOUT THE TREATMENT GIVEN TO YOUR CUSTOMER
ClearSale has a specialized and experienced in-house team of more than 600 fraud analysts - Procedures are specialized and customized by segments or clients.

REST ASSURED REGARDING THE SOLUTION INTEGRATION
Our solution can be integrated at any place of the payment chain, fully adapted to your processes. ClearSale offers several APIs and modules to integrate with different platforms, besides our proprietary IT staff to support different types of integration.

INCREASE THE PREDICTABILITY OF YOUR COSTS AND REDUCE YOUR RISKS
No fixed costs, the costs vary according to your demand.

YOU DO NOT HAVE TO CONSTANTLY CHASE FREQUENT CHANGES IN FRAUD PATTERNS ANYMORE
We continually update our fraud scores at no extra charge to our customers.

INCREASE APPROVAL RATES
In addition retain your customers. Without automatic denials, ClearSale reduces the number of false declines that can cost you sales and customer relationships.

do not WORRY ABOUT FRAUD ATTACK
ClearSale maintains a dedicated fraud attack team of detection that specializes in analyzing fraud attack patterns and behaviors in clusters of orders.

WE TAKE RESPONSIBILITY FOR THE KEY INDICATORS AND OFFER YOU A PERFORMANCE BASED PRICING
We take responsibility for fraud losses so you are free to focus on your core business.

POST-SALES TEAM WITH EXPERIENCE IN THE SEGMENT
You can access ClearSale's support and business team, physically located in the USA, for support with any need you might have. There is a lot of knowledge behind our more than 16 years of experience and hundreds of millions of transactions already processed and decided through our solution.

NO IMPACT ON YOUR WORKFLOW
Our extension is capable of integrating with different payment methods, platforms, and custom systems so that you can connect ClearSale's decision to your processes and automatically follow your workflow. Once the system is configured, no extra action is required on the payment flow.

COMPLETELY ELIMINATES FRAUD-RELATED BACK-OFFICE COSTS AND SIMPLIFY BY HAVING ONE SINGLE SUPPLIER
Our complete solution does not require fraud analysts, modelers, a manual review team, or fraud chargeback management. We do a full package: machine learning – rules-based reviews and manual reviews. You will have a single supplier, integration, payout settlement, agreement, and customer support.

PAY ONLY FOR THE APPROVED TRANSACTIONS
No fixed costs: the costs vary according to your demand.
OPTION TO HAVE 100% REIMBURSEMENT OF FRAUD-RELATED CHARGEBACKS
There's no risk. If you run into fraud, we will cover it.

GET MOST OF THE DECISIONS WITHIN SECONDS
ClearSale's analytical team works on the optimum cutoff score and tracking rules to maximize instant approvals.

FLEXIBILITY
Our fraud scores, procedures, and teams are trained and customized according to specific segments or specific aspects of your business.
It's simple math. More approvals + less fraud and chargebacks = higher revenue
With ClearSale's Total Guaranteed Protection, you can stop deliberating over fragmented anti-fraud packages. From integration to support, we work closely with you to ensure your security, confidence and freedom to sell.
Save time and stay sane
Protect your revenue now