About ClearSale
Describe your company and its main strengths
ClearSale is a multinational company whose mission is to stop fraud without affecting the customer experience. ClearSale's flagship solution is an end-to-end fraud management solution, combining advanced technology software, artificial intelligence algorithms and manual review when necessary. While most fraud prevention solutions are built on scoring and filters, ClearSale simply approves or declines each order, backing every order with a financial guarantee if desired. Below are some important aspects about ClearSale.
• Founded in 2001
• The first provider ever to guarantee chargebacks in early 2000s
• 2,500+ customers and a 99% customer retention rate
• Expertise, reliability and flexibility to scale to any operation
• Hundreds of millions of transactions analyzed yearly
• We are a profitable and healthy company. ClearSale wasn't built to raise money
.
• We boost clients' revenues. Unlike the competitors, ClearSale has different touchpoints before a transaction is declined and performs manual review when needed. Every legitimate order is approved and no revenue is neglected for any reason.
• ClearSale has prevented fraud in the most complex and dynamic international e-commerce markets, which allows us to offer unparalleled quality of service to support the expansion of your business strategies.
• Some of ClearSale's achievements and credentials

• Some of ClearSale's more than 2,500 clients:
What is the differential in not automatically denying transactions based on artificial intelligence?
False declines cost more money than fraud and make up 58 percent of declined transactions. Retailers lose more money on false declines ($118 billion) per year than they do to actual credit card fraud ($9 billion). 32 percent of customers who experience a false decline choose not to shop with that merchant again.
Explain your offer and how it's different versus competition?
Merchants are faced with many "apples vs. oranges" choices. While most fraud prevention solutions are built on scoring and filters, ClearSale simply approves or declines each order and backs every order, as shown below. Because ClearSale doesn't deny any transactions based solely on artificial intelligence—in other words, ClearSale doesn't auto-decline—we have the lowest decline rates in the industry.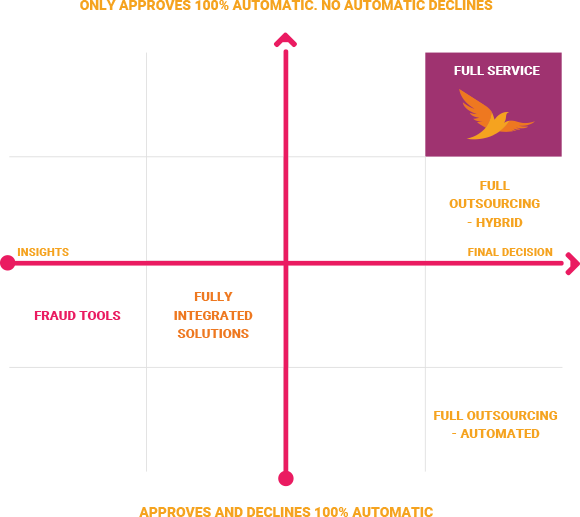 Full managed services solution
Offers the final decision based on systems and manual review of orders.
No order is automatically denied
Hybrid managed services solution
Offers the final decision based on systems and manual review of orders.
Automatically rejects high-risk orders.
Automated managed services solution
Offers the final decision based solely on systems / automatic decision.
Automatically rejects high-risk orders
Fully integrated solutions
Operation platforms address many functions, including: screening, rules management, integration with third parties and case management application.
No final decision offered; need to be operated by an in-house team
Fraud tools
IP geolocation, email checking, external data sources, device fingerprinting, AVS check etc.
Need to be combined with a fully integrated solution.
All transactions are eligible for a chargeback guarantee (insurance); however ClearSale has 2 different business/commercial models: ​
Which type of transactions does your solution cover?
ClearSale's solution covers all types of card-not-present transactions: MOTO, web and mobile for any business segment, including high-risk segments.
Please describe the process from the moment the order enters your solution until the final answer.
Below, you can find a workflow of ClearSale's process, from the moment we receive an order until the moment we give the final decision on whether to approve a transaction:
Step-by-step business flow


Order in
As soon as a customer enters your website, we know where he or she came from and we monitor him or her while browsing

Sent directly through our application
API integration
E-commerce platform plugins
(Magento, Shopify, Prestashop and more)


Artificial intelligence
Auto scanning, breaking down orders into patterns and looking for redundancies in orders based on:

Information contained in the order
Device information
External data sources
Behavioral information
Historical information
ClearSale runs its fraud score and decision rules
Send to analysis

Approve the order


Screening / Triage
When discrepancies arise, instead of just declining the order, as some solutions do our team of experts conducts a manual exam of order details and information collected.
These human agents can see beyond algorithms and have a sixth sense in matters regarding online fraud, capturing details that computers cannot. If needed, ClearSale uses contact information linked to the cardholder to conduct cardholder verifications.
The most experienced analysts analyze the orders, seeking evidence to approve them or to confirm fraud in this step, without contact with the customer.
Do we have enough data to approve this order?
Is there any previous fraud associated with the data?
What do we expect from the profile in terms of purchase behavior?
Do we know any particularity from that specific store or product?
Product vs Delivery address
Support from external data sources + social media
Different touch points before a denial
Fraud

Approved


Final Decision
No order can be denied without a second
validation from a second analyst
This analyst will look for the owner of the data in order to confirm (or not) the purchase, supported by internal and external data sources and social media.
How the solution works?
Are all transactions passed through the platform?
All orders go through ClearSale's platform. They are then scored by a segment-customized fraud score and fraud (decision tree) rules and crossed with different data sources. Be aware that the artificial intelligence is only used to approve orders, not to decline any of them. We know that sometimes human eyes can see things that a machine can't, so transactions that can't be approved through artificial intelligence are scrutinized by ClearSale's high-tech manual review process. This makes ClearSale unique; because we offer the benefit of the doubt to every order, transactions are never incorrectly denied outright, and no revenue is neglected without reason. ClearSale doesn't believe in auto-declines.
Are there any fixed costs?
No, ClearSale's charges vary directly with volume. It's a variable cost, completely aligned with customers' businesses.
Provide some examples of information used within your solution.
ClearSale uses all the available information when it comes to fraud prevention, including fingerprint technology that allows us to identify computers placing transactions; proprietary tracking technology that allows ClearSale to track customers' behavior within clients' websites; proxy piercing technology; geolocalization; BIN tracking; reverse phone/address lookup; e-mail intelligence and so on.
What payment data is used and stored? Are there PCI concerns?
ClearSale doesn't store full credit card information, so there's no PCI requirement. Some of the information ClearSale gathers is listed below:
| | |
| --- | --- |
| E-mail | Date |
| Billing and shipping addresses | Time |
| Name | IP address |
| Phone number | Total amount |
| Main item (highest-amount item) | Card type |
| Description | Card's last 6 digits |
| Quantity | Card's last 6 digits |
| Value | Expiration date |
| Transaction code | |
Is there anything else needed on top of ClearSale's solution?
ClearSale is a standalone and comprehensive solution. Once installed, no further effort is required, and the burden of updating tools and adapting to evolving fraud attacks is removed. ClearSale offers a full package, providing merchants with the final decision on whether to approve each one of their orders. Because ClearSale offers an end-to-end fraud management solution, combining advanced technology software, artificial intelligence algorithms and manual review, there's no need to combine any other tool or resource with ours. With a solution like ClearSale's, merchants should simply monitor the results across 3 main KPIs: chargeback rate, analysis time and approval rate. There's no need to manage extra people or different suppliers. ClearSale aims to offer peace of mind and the freedom for each merchant to focus on its core business. Because ClearSale charges a fixed price per transaction, it also gets easier to forecast costs. Merchants don't have to think about different suppliers, hiring/firing costs for fraud analysts because of demand variations and so on. There's only one single rate to pay attention to.
Is there any training needed after the implementation of your solution?
Training is very simple because what ClearSale offers is a service/decision and not a workbench or collection of tools to be managed. After implementation, relationships will be focused on managing results, regardless of changes in the market, new tools integrated by ClearSale and so on. There's no manual intervention needed by merchants/clients, so the user interface is mainly used to watch the performance of ClearSale's solution.
Are customizations available?
ClearSale has a proprietary case management system that enables custom workflows, different data integrations and third party integrations, as needed by business rules or specifications. There are also different fraud scores available according to different business segments and profiles. ClearSale may ask clients to extract a sample of past orders so they can be used to optimize fraud scores and produce better results for specific businesses.
Does your solution cover auto-fraud and friendly fraud?
Yes.
Does your solution work with blacklists?
Past negative activity is included in scoring, but blacklisting and automatic declines can negatively impact decision accuracy and make fraudsters more effective, as they are not 100% accurate and may contain stolen data. Transactions that would be declined by a blacklist are analyzed by a human to verify if they are legitimate orders placed by people who have had their data stolen.
Service
What SLAs are in place?
ClearSale sells KPI performance through a final decision for each and every processed order. These KPIs are based on chargeback and approval rates; however, these numbers vary according to each segment and merchant's specific scenarios.
Are you willing to work with performance-based incentives?
Yes. ClearSale takes responsibility for key indicators and offers performance-based pricing.
How does your solution work with volume during peaks?
ClearSale's business model already expects variations in volume, and merchants don't have to worry about sales peaks. ClearSale is responsible for making sure operations and processes keep pace with sales. ClearSale has merchants covered, even during major sales events, such as Black Friday. The merchants do not even have to worry about calling ahead.
Are you able to grow with your clients?
ClearSale has been on the market for more than 15 years and understands that only mutually beneficial relationships can lead to success and growth. ClearSale is not looking for short-term earnings to be sold to a big group later.
Support
What level of support is available? Do merchants have dedicated support contact?
24/7 IT support and nominally assigned post-sale consultants are available by phone and e-mail, and they are physically located in the USA. ClearSale has gained a lot of knowledge and experience through the hundreds of millions of transactions we have already processed through our solution.
During the integration, clients are assisted by ClearSale's IT manager and his integration department, while business- and performance-related questions are handled by our Fraud Operations Manager. After clients go live, they have access to 3 teams: the Support Team (who help with integration issues), the Finance Team (who help with billing and refunding issues), and the Post-Sales Team (who help with performance issues and general questions).
Hours available for human contact?
Support staff are on-duty 24/7.
What are the integration options and how long does it take?
ClearSale's API library and client service team make manual integration simple. Clients of major platforms (e.g., Magento, Prestashop, Shopify, WooCommerce, BigCommerce) can integrate in just 3 easy steps: 1) Retrieve the plugin, 2) enable the ClearSale module in the store and 3) keep track of orders on ClearSale's dashboard. The full process takes 1 hour if you install one of the platform's plugins or 8 to 12 hours if you follow the API guide.
Describe the level of support available before and immediately after integration.
During the integration process, each customer has a nominally assigned IT consultant, and after integration, ClearSale offers 24/7 IT support by phone and e-mail.
How does the management of the solution work? What kind of maintenance is needed?
ClearSale uses both internally developed tools and market tools, aiming to deliver agreed-upon performance indicators (chargeback rates, analysis times and approval rates) with excellence. ClearSale's analytics team is always evaluating and installing new tools within its solution. ClearSale is responsible for making sure operations and processes keep pace with clients' operations. We have scores customized for different segments and for specific customers, and we continually update fraud scores and fraud rules with market- and self-sourced data at no extra charge to customers, so no merchant has to chase frequent changes in fraud patterns anymore. The merchant doesn't need dedicated resources to manage the solution.
What reports are available?
ClearSale offers access to an online dashboard for PCs, tablets and smartphones to see real time data on
| | |
| --- | --- |
| Pending approval requests | Current approval rates |
| Response times | Recent orders |
| Histories over the last 24 hours, the last week, the last month and the last year | Details for specific orders and how they are related to other orders |
Can reports be automated or must they be pulled manually?
In addition to the online dashboard, clients also have the options to receive periodic and automatic reports.
Security
What's your data security policy?
ClearSale follows ISO 27001 best practices, and all data is stored on level 4 information servers.
Will customer's data be shared with anyone?
ClearSale doesn't share customer information. All the information from different clients is gathered with the sole objective of preventing fraud. Information from different customers is cross-referenced to benefit all parties. The only response from ClearSale is a fraud score that reflects information from different customers. Other than that, only customers have the right to see their own information.
What chargeback codes are covered?
ClearSale will audit and qualify all chargebacks and verify if they were fraud-related. ClearSale coverage only applies to chargebacks related to identity fraud and does not reimburse chargebacks based on commercial disagreements, customer dissatisfaction with purchased products or purchases made by the card owner that are later disputed. Below are the reason codes eligible for reimbursement:
| | |
| --- | --- |
| Code #37 | Fraud Transaction No Cardholder Authorization |
| Code #40 | Fraudulent Processing of Transactions |
| Code #57 | Fraudulent Multiple Transactions or Credit Card Activated Telephone Transaction |
| Code #62 | Counterfeit Transaction |
| Code #63 | Cardholder Does Not Recognize Potential Fraud |
| Code #75 | Cardholder Does Not Recognize Transaction |
| Code #81 | Fraudulent Transaction: Card Present Environment |
| Code #83 | Fraudulent Transaction: Card Not Present Environment |
ClearSale also classifies chargebacks from different reason codes to determine if they might be fraudulent. Any chargeback deemed fraudulent by ClearSale will be eligible for Chargeback Reimbursement.
How long have you been offering the chargeback guarantee?
Over 10 years.
Do you require that merchants allow you to represent on their behalf (to recoup loss on a transaction)?
No, ClearSale doesn't fight chargebacks.
Customers
Briefly provide some business case results
Results speak for themselves:

Avianca: Avianca was one of ClearSale's first airline clients, and, together, we learned to develop both dedicated procedures for Avianca and benchmarks for the airline industry. We managed to reduce Avianca's chargeback rate by over 80% while maintaining approval rates, including a 95% automatic order approval.
Multinational fashion outlet: This outlet's operations with ClearSale have benchmark performance indicators, with chargeback rates lower than 0.1% and an approval rate higher than 99% 60% of its sales come from mobile channels and 75% of sales come outside its home country, with Brazil, one of the world's riskiest markets, serving as its primary international market. All this performance is achieved with 98.5% of orders being approved in a matter of seconds.

Interconnection (https://goo.gl/FjvYwk): Interconnection wanted stronger protection for its e-commerce sales of computers and other equipment and outsourced to ClearSale's Total Guaranteed Protection fraud solution. Within 2 quarters, they saw dramatic results: 344% increase in revenue, 13.3% increase in transaction approvals and $0 in chargeback costs.

Schutz shoes (https://goo.gl/bR46RH): With triple-digit percentage growth comes growing pains. When Schutz received a modest amount of online orders a day, using the free tool from its previous e-commerce platform provider worked fine. The plugin would flag orders that might be fraudulent, and the Schutz decided to approve or decline such orders. When Schutz decided to integrate ClearSale's solution, the impact was almost immediate: Schutz was no longer on the hook to manually check flagged orders and now approves 97% of its orders, which is about a 5 p.p. increase from when it relied on its free plugin.

Parana Lentes (https://goo.gl/VGzn7M): Parana Lentes is an international retailer and wholesaler of cosmetic contact lenses, founded in 2004. Today, Parana Lentes sells to about 150 countries, with strong customer bases in the Persian Gulf States, Monaco, the UK and North America. The company distributes the Solotica brand, which is popular among young US celebrities, Johnson and Johnson, Acuvue and other leading brands. Parana Lentes chose ClearSale and got the results they were looking for: 35% increase in cross-border transactions in the first three months, 97% approval rate for cross-border transactions, zero fraud-related chargeback costs and time to put product-development plans into action.